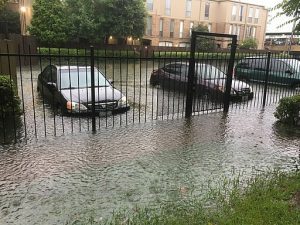 With hurricanes hitting and threatening Texas, Louisiana, Florida, Georgia and the Carolinas along with wildfires raging out West, we thought it would be good to repost and update a blog we wrote last Fall (when we were experiencing wildfires here in our own mountains) about emergency planning.  When a natural disaster is impending, you have little time to think and prepare.  You immediately consider your loved ones, home and pets but what about those important documents, family heirlooms, prescriptions, valuables, etc.?
The post we shared last fall was very comprehensive but we have updated it below to include smartphone apps.
Planning ahead – What to do in an emergency?
Read our post from last year  – What to do in an emergency?
Emergency Evacuation Checklist
From that article, we provided a link to an Emergency Evacuation Checklist.  You can click here to view and download.
Updated: Smartphone apps
The recent hurricanes hitting both Texas and Florida also really made people aware of smartphone apps.  Most people have some type of smartphone and there are apps that can be used with and without wifi and with and without cell phone coverage. There are also useful apps (such as flashlight apps) that can be useful in an emergency situation.
Because these can change frequently, we recommend you review this list but then update it periodically:
Cnet's list of Emergency Apps for Natural Disasters
Updated: Local Information and Alerts
In addition, be sure to sign up for local information alerts from your local TV, News and Radio stations. Many offer text alerts for everything from severe weather alerts, missing person alerts to school and business closings.
Updated: Volunteer, Donate & Help
There are also apps that allow you to sign up to volunteer and help or to donate to disaster victims.  Be careful and do your proper research before donating and giving your personal information as there are also scams. It's unfortunate that there are people that take advantage of these situations so it's up to you to be aware.
Be safe. Plan ahead and Prepare.
---
At the Law Firm of Steven Andrew Jackson, Attorney and Counsellor at Law, we have helped hundreds of families protect themselves and their loved ones, avoid Estate Taxes and Probate Costs, and keep their Estate Plans current with the law through The Customized Protective Estate Planning Solution™.