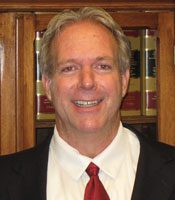 Steven Andrew Jackson
Attorney and Counsellor at Law
"We are honored by our clients, who become our friends, who entrust us to protect their life's work and understand their life story."
"When I start helping new clients protect their life's work, I always remember to act as if I was doing the customized protective planning for my own mom and dad or sister or brother."
-Steve Jackson
About Steven Andrew Jackson
Asheville Trust & Estate Attorney
Click here to download Steve's complete profile
Steven Andrew Jackson, Attorney and Counsellor at Law, is the founder of The Customized Protective Estate Planning Solution™ and The LifePlan System™, that protect and provide for you and your family, avoid Estate Tax and Probate Costs and keeps your Estate Plan current with the law.
Steve is a member of WealthCounsel, LLC.  WealthCounsel, LLC is a more than three thousand member alliance of estate planning attorneys nationwide using cutting edge legal education and technology.
Steve has over 35 years of legal experience and has been practicing in Asheville since 1982.  His legal and life experience make him keenly aware of the need for personal and estate planning for everyone.
Steve regularly attends estate planning classes all over the country.  He is a graduate of the Esperti Peterson Institute of Advanced Studies for Estate and Wealth Planning, a two year Post Doctorate Advanced Estate Planning Certification Program.
Steve is a licensed attorney in the states of North Carolina and Georgia.
He is qualified as an Attorney and Counsellor of the Supreme Court of the United States of America. He is also a member of the American Bar Association, North Carolina Bar Association, the Georgia State Bar, and the Midsouth Estate Planning Counsel.  He is a former vice president of the Young Lawyers Section of the Buncombe County Bar Association. He attends The Strategic Coach™. He is a Living Legacy Certified Advisor™ and is the founder of The North Carolina Estate Planning Institute, LLC. He is a National Advocates – Top 100 Lawyers.  
Steve is an experienced educator. He regularly teaches professional continuing education courses to financial professionals, insurance professionals, accountants and attorneys.
Steve is an experienced and gifted listener who hears his clients' goals and concerns. Taking those concerns to heart, Steve designs that client's "Customized Protective Estate Plan™". That Plan protects the clients and their loved ones, avoids Estate Tax and Probate Costs and together they work to keep the Plan current with the law.
Steve attends Covenant Community Church. He loves to hike and ballroom dance.