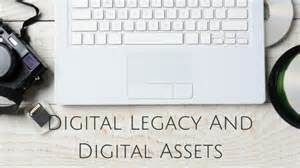 STEVEN ANDREW JACKSON, ESQ. LEADS CONTINUING EDUCATION CLASS ON THE "DIGITAL ASSETS IN ESTATE PLANNING"
Estate Planning Attorney Steven Andrew Jackson, will teach a one hour Continuing Education class on "Digital Assets in Estate Planning." The class will be from 8:00 am to 9:00 am on Wednesday, November 2, 2016, at The Biltmore Building, One North Pack Square, in downtown Asheville.
We will look at technology's impact on Estate Planning and Administration. How are LinkedIn, Facebook, Gmail, on-line banking and investment accounts and other on-line resources controlled after death? How are those on-line accounts handled by the Probate Courts or the Trustee?
The class is approved for one hour Continuing Education by the North Carolina Department of Insurance. This is a casual one hour seminar designed to make sure you receive a valuable return on your investment of time.
You can contact our office at (828) 252-7300 or go to our website at www.stevenandrewjackson.com to obtain more information about the class.