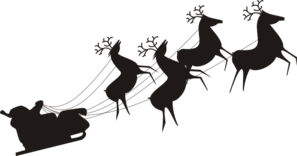 Ho Ho Ho! Get on the Road (or your sleigh):
Christmas time is the second most traveled holiday in the United States after Thanksgiving.  People are traveling to be near loved ones, friends, family or as a time away for vacation from work or school.  Here are some interesting holiday travel statistics brought to you by the US Dept of Transportation:
91% of holiday travel is by car (Santa is the only one who travels by sleigh)
people travel more miles for Christmas than Thanksgiving (275 average miles vs. 214 at Thanksgiving)
people stay longer for Christmas/New Year's holiday than Thanksgiving (4 nights vs 3)
most holiday travel is domestic although at Christmas, 3% is international
the average age of Christmas holiday travelers? just above 36
If you're traveling over the Christmas/New Year's holiday, chances are you are visiting family in another state. Why would your estate planning lawyer be writing about that? Well, while we don't like to think about estate plans as we are planning our holiday dinner and gift shopping, it is something to consider as you draw up your estate plans.
Here are just some of the issues of estate plans in other states, :
Your Estate Plan may only be valid in your own State and not be valid when you are crossing into other States.
You want to make sure that your Health Care Powers, including your Health Care Power of Attorney, Living Will, and Health Care Designation, work in your state and other states. It would not be good to be in an Emergency Room in another state and the hospital deny the legal authority of your chosen Healthcare Agent.
Also you want to make sure that your Revocable Living Trust, aka Living Trust has Mental Disability Planning, so that it will be effective in the event you have a stroke, head injury, or you are otherwise unable to handle your affairs due to mental incapacity. You want the Mental Disability Planning in your Trust to work in your state and other states you may travel to. That can be properly designed and built into your Estate Plan.
We want you to travel with peace of mind this holiday season. May you arrive safely and enjoy time with your family!
About the Law Firm of Steven Andrew Jackson, Attorney and Counsellor at Law:
At the Law Firm of Steven Andrew Jackson, Attorney and Counsellor we have helped hundreds of families protect themselves and their loved ones, avoid Estate Taxes and Probate Costs, and keep their Estate Plans current with the law through The Customized Protective Estate Planning Solution™.